In the midst of the recent controversy about the transition from GSAT to PEP, parents still need to make mundane decisions like, which school do I send my children to. And of course it's of extreme importance that your child gets the best education your money can buy. We have prepared a list of the 10 best preparatory schools in Kingston for you to consider before you make that choice...
1. Hopefied Preparatory School


The school's triumphant chess team in 2010


Hopefield Prep is now in its 59th year, so next year will its Diamond Jubilee. The school has a favourable teacher - student ratio and consistently does extremely well in the GSAT exams. In addressing the matter of student demographics, the principal had this to say: "we have a wide cross section of students here and we encourage this diversity". Regrettably, it seems the school has opted not to have an online presence.
Address: 6 Hillcrest Ave, Kgn 6
Website: https://www.findyello.com/Jamaica/Hopefield-Prep-Sch
Phone: (876) 927 8216
2. Creative Kids Learning Academy


Looks like he's explaining some abstract concepts
Creative Kids Learning Academy has been in existence for 10 years and has already made a mark on the primary education landscape. It claims to uniquely combine the Abeka Curriculum with that of the Ministry of Education, which is then enhanced by specialist areas such as, Bible, Computer, Physical Education, Music, Art and Spanish. They have had 4 sittings of GSAT with 100% passes for each.
Address: 23 Windsor Ave, Kgn
Website: http://creativekidsja.com/
Phone: (876) 978-0990
3. Porter's Center for Knowledge


Say that pledge
Porter's Center for Knowledge makes this claim on its facebook page: The Centre desires to see each child reach his/her full potential spiritually, emotionally, physically and academically. We operate as an extension of the home. Reviewers use superlatives like best and excellent when talking about the school.
Open: Mon - Thu: 7.30am to 3pm; Fri: 7.30am to 2.30pm.
Address: 21 Windsor Ave, Kgn
Website: https://www.facebook.com/portercentreforknowledge/
Phone: (876) 946 2698
4. Immaculate Conception Preparatory School


Gold medalists in JCDC competition
Immaculate Prep, being a Catholic school, is based on strong Christian values, but of course is open to students of all denominations. It is an all girls school with students from 4 to 12 years old. The school initially started in 1859, but has had some interruptions over the years. Today it has a rich history of academic and sporting excellence.
Address: 152C Constant Spring Rd, Kgn 8
Website: http://immaculateprep.com/
Phone: (876) 925 2819
5. Mona Preparatory School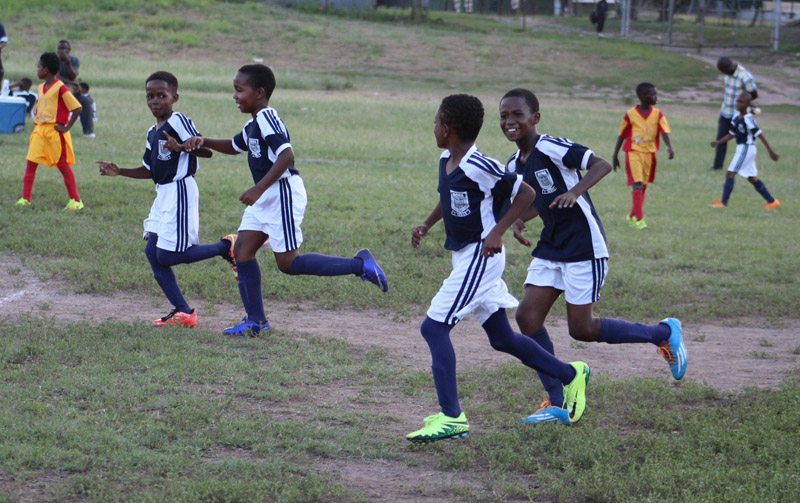 Mona Prep footballers in action
Mona Prep was founded in 1964 under the auspices of the United Church in Jamaica and Grand Cayman. Its mission is to provide a Christian environment in which students can learn and develop into well- rounded individuals who see service as an important part of their contribution to society. Mona Prep is a name to reckon with in the fields of sports, cultural events and academics.
Address: 221 Old Hope Rd, Kgn 6
Website: https://www.monaprep.edu.jm/index
Phone: (876) 927 2222
6. Stella Maris Preparatory


Depicting our divers cultural heritage
Stella Maris Preparatory School is a Roman Catholic educational institution. It claims to deliver quality education at the early childhood and primary levels. The school has a track record of excellent performance in GSAT and has extra curricular activities such as drama, swimming dancing, chess and football for the holistic development of its students.
Open: Mon - Fri: 7.30am to 3.00pm
Address: 62 Shortwood Rd, Kgn 8
Website: https://www.facebook.com/Stella-Maris-Preparatory
Phone: (876) 925 8956
7. St Andrew Preparatory School


St Andrew Prep Netballers
St Andrew Prep is one of Jamaica's leading preparatory schools and has been in existence for 87 years now. It gets mostly positive reviews from reviewers. One commented: "Very structured and organized school programmes." St Andrew Prep is a frequent top performer in GSAT earning government scholarships, a civil servant scholarship and a Sagicor scholarship.
Open: Mon - Fri: 7am to 4pm.
Address: 2 - 6 Cecelio Avenue, Kgn
Website: https://www.facebook.com/St-Andrew-Preparatory-School
Phone: (876) 920 5728
8. St Hugh's Preparatory School


Math stars and their coach
St Hugh's Prep was founded in 1899 as the Deaconess Home School. It is a co-educational school operated by the Anglican Diocese of Jamaica and the Cayman Islands. Emphasis, they claim, is placed on balancing academics, arts, sports and other character building activities. The school accommodates students with special needs as St Hugh's actively pursued and has secured their integration into mainstream classes. As a sign of our commitment to special needs education, the St Hugh's Prep campus is completely wheel chair-accessible.
Address: 1 Tom Redcam Dr, Kgn
Website: http://www.sthughsprep.com/
Phone: (876) 754 2518
9. Hillel Academy Preparatory School

The Hillel Prep football team
The school has a population of about 4oo students from kindergarten through to grade 6. Hillel boasts a multi-national and multi-cultural student population in an atmosphere where students feel safe and cared for. Each grade section has both a qualified teacher and a teaching assistant. According to their website, they have international accreditation. Hillel Prep offers a wide variety of extra-curricular activities in both sporting and non-sporting areas, all supervised by teachers or parents with expertise in their fields.
Open: Mon - Thu: 7.30am to 3.15pm; Fri: 7.30am to 2.30pm.
Address: 51 Upper Mark Way, Kgn 8
Website: http://hillelacademyjm.com/prep
Phone: (876) 925-1980
10. Queens Preparatory School

They graduated
Queens Prep celebrates 64 years this year and is operated under the auspices of the Anglican church in Jamaica. Their aim is to provide liberal and thorough education. According to one of the many positive reviewers, I went to this school back in the day, I also sent my kids to the school. For me it is the best Prep School in Jamaica. The school has a kindergarten and a junior department, the latter accepts students up to 13 years. In addition, there is a special remedial unit which caters for children with special education needs.
Address: 121 Constant Spring Rd, Kgn 8
Website: https://www.facebook.com/queesnprepjamaica/
Phone: (876) 924 1441